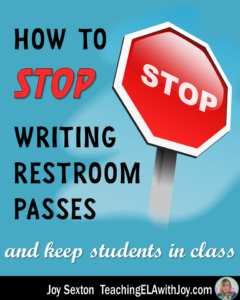 Those incessant restroom requests . . . what's a teacher to do? I admit I've always been annoyed by them (What? You mean you want to leave my class?).  But how can you say no when students ask? For years, I would just sign the pass, adding wistful words like, "Go quickly!" or "Hurry back!" But once I'd allow one student to go, another and another would want a pass as well (despite the fact that they are told to use the restroom during passing time).
I was noticing plenty of my students socializing in the halls with friends, or hanging by the doorway before class, yet 15 minutes later in class requesting a restroom pass. I began denying requests to these students and found that they were just fine without the pass.  Oh, I did have to make my case.  But seeing that these students survived without that restroom trip got me thinking about setting some MAJOR limits for passes, and that's what I did.
So read on to discover an easy system that will allow you to drastically reduce restroom requests.
1. Set a Scant Limit –
I decided to set a limit . . . 3 PASSES PER QUARTER. Yup, that's all. Three restroom passes over the nine (or ten) week grading period. As I start out the year, I write this up in a section on my Class Expectations infographic handout. I hear the gasps as my middle-school students read.
"You mean, three per month?"
"Nope, three for the entire grading period."
"But what if we have to go to the bathroom?"
"You'll need to plan your restroom visits for passing time or other classes. But you do get three per quarter for this class."
The good news? Even though students wear a frightful expression as they learn of the 3-pass limit (I make sure to act very nonchalantly as I inform them), they kind of just accept it! I have been using this system for two years now and it has totally worked! I have SO MANY FEWER restroom requests, which I will illustrate for you later in this post. Just set your expectation and stick to it.
FYI, in middle school, since we work in teams, I brought this idea to my team colleagues and they all wanted to use it. I made a little poster about team expectations and included the 3-pass per quarter (per teacher) rule.
2. Make It Concrete –      
After I announce the 3-pass limit, I hold up my clipboard, which contains my class lists in a charting to show three columns where I can jot down the date each time a student uses a pass. Now students can see this procedure has been planned and organized. It's FOR REAL! Then I say, "So I have three columns next to each of your names and when you need to use one of your passes, I just record the date in this little box and we'll know you've used one. That way we can always check to see if you're on your first, your second, or your last."
I actually have three sets of three columns. That's because the first set is for restroom passes, and I use a second set of columns to keep track of late students. The third set is a place where I record dates when students are unprepared. (That's why the columns are marked R, L, and U.) I explain this information to them as well. Three times late or unprepared results in a detention.
 Here's a picture of the blank charts that I keep for each class on my clipboard: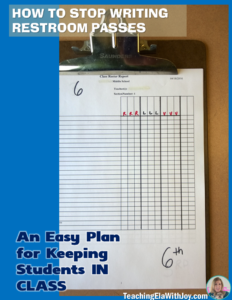 These rosters print out from our system (School Tool) with the student names and the columns already there. All I do is take a marker and darken the lines to separate the sets of three spaces.
3. Stick With the Program –
Whenever a student comes up to have a pass signed, you have to get to your clipboard to quickly jot down the date in the corresponding spot on the chart. If you neglect this step, students will see that they can actually have more passes than you originally indicated, and the system will flop. Keep the clipboard in whatever area of the room you hang out at the most. Mine is on my front table, so if I'm back at my desk, I do have to get up and go to that clipboard if I grant a student a pass.
4. Notice Your Results –
At the end of the quarter, I have been amazed at how few students even used all three of their passes! Several students used no passes at all! Take a look at the chart here, which has been filled out for the last quarter for one of my regular English classes.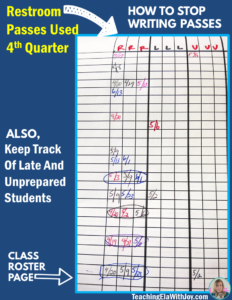 In a class of 27 students, a whopping 15 students didn't use any of their 3 allotted passes! And only 5 students hit their limit.
My takeaway from two years using this method is If you build it, they will come ! Students catch on that this is the plan, and let me just say what a difference I am enjoying from the old days. No more steady stream of kids coming up to me with their agendas held out to sign, day after day. And even better is the understanding I have that, for the most part, they are JUST FINE.
When there are extenuating "emergencies," use your own good judgment. A compromise I use is to tell the student okay, but next time I might need to mark them with an unprepared, since they'd used up their passes and hadn't stopped by the RR during passing time.
Thanks for letting me share. Teachers, I'd love to hear your ideas for addressing pass requests.