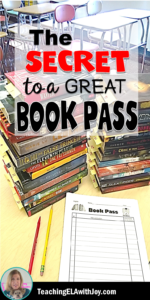 We all want our students hooked on reading, right?  I've been using reading workshop with my classes since 1995, and that's actually when I started doing the Book Pass! I read about it in a red teacher binder of English activities (I don't even recall the name of it now), and it's been a hit every year. When we finish the pass, I have students swarming over the books, asking me to reserve titles for them, students going to the school library and the public library just to get a copy when mine have been depleted, ETC.!  So read on and I'll explain some tips and of course, the "secret" to a fantastic Book Pass experience!
The general concept of a Book Pass is the teacher provides compelling books for students to get into their hands for a few moments. Students read the blurb and the first few pages and then rate the book according to their level of interest. Students get exposure to a lot of high-interest titles. Some teachers put their students into groups and books are circulated that way.
As a middle school teacher, I like to keep this activity orderly and silent, so students can actually READ! We perform it (as stated in the original directions) as a whole class activity.
Here's my Book Pass Handout if you'd like to print and use it: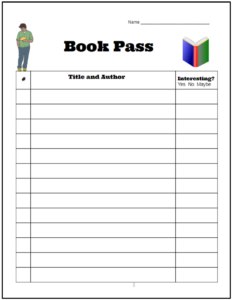 So, what's the big SECRET to a great Book Pass? Keeping it orderly and silent? Well, that's important. But the biggest trick and ABSOLUTE NECESSITY is you have to choose only books that have attention-grabbing beginnings. Let me explain why this is so important.  Here's the process of the Book Pass:
Student passes the book (I'll explain how that's done later in the post)
Student records title and author on Book Pass handout
Student silently reads the "blurb" on back of book
Student turns to beginning of Chapter One and reads silently for 2 minutes
Teacher calls time, student records interest level, passes book
Student receives next book and continues the process
Now, back to our secret for success. There are so many excellent books out there that just don't start into the action, excitement, or intrigue until you get several pages in. Those are NOT books to use for the Book Pass because students need to be really interested in continuing reading the book. Remember, they only get two minutes to read and then they pass the book. If the author uses the first several pages to focus in on the setting, or a character's background, even if the books turns amazing in Chapter Two, it's not going to be a hit for the Book Pass.  Better to save those titles for your book talks.
So . . . it does take some prep time to have a successful Book Pass where students are clamoring to read the books you've provided.
Let me help save you time by providing my list of 30 Books for Middle School with Attention-grabbing Beginnings:
The Limit by Kristen Landon
Legend by Marie Lu
The Eleventh Plague by Jeff Hirsch
Stormbreaker by Anthony Horowitz
Wanted by Caroline Cooney
Runner by Carl Deuker
Cirque Du Freak by Darren Shan
The Maze Runner by James Dashner
The Séance by Joan Lowry Nixon
The City of Ember by Jeanne DuPrau
Divergent by Veronica Roth
The Statistical Probability of Love at First Sight by Jennifer E. Smith
Spirit Seeker by Joan Lowry Nixon
The Car by Gary Paulsen
Fatality by Caroline Cooney
The Compound by S.A. Bodeen
Bullyville by Francine Prose
Football Genius by Tim Green
The Bully by Paul Langdan
Girl Stolen by April Henry
Six Months to Live by Lurlene McDaniel
Buddy by M.H. Herlong
The Wish by Gail Carson Levine
Small Steps by Louis Sachar
Origin by Jessica Khoury
How to Steal a Dog –  Barbara O'Connor
Bystander – James Preller
Reef of Death – Paul Zindel
Slam – Walter Dean Myers
The False Prince – Jennifer Nielsen
I'm sure you'll find more from the books you love in your library—just check those first few pages to make sure they are grabbers! You'll need to have enough books for your largest class. When students come in, have a book already placed on every desk. Ask them not to change books. Assure them not to worry, that they won't be stuck reading the book on their desk…it will only be there for a few minutes and then they will have a different one.
By the way, notice in the picture I have a numbered sticky note in each book. The sticky note marks the page where Chapter One begins. That way, students can turn quickly to the page where they will begin reading as soon as they finish the blurb. (I start timing them the two minutes when it looks like most everyone has started the chapter.) The number helps if you plan to do the pass over the course of two class periods. You can get the books back right where you left off and continue passing in the right order (with no one getting a "repeat" from the previous day).
Speaking of passing in the right order, place the numbered books on student desks in a snake-like order, because this is the way they need to be passed. First person passes behind, next person passes behind, next person passes behind, until end of row. Then that person passes across, next person passes forward, that student passes forward, next passes forward until front of row. That student passes over to next row, etc. If you don't have desks in rows (I have mine in pairs), choose a snake-like flow of passing and make it clear to the students. I make them look directly at me as I tell them who they will pass to. The last person in the pass has to get up and bring it around to the first person (I usually run it around.)
The Book Pass is fun! Who doesn't love seeing students engaged in reading and eager for their next book! If you don't have a classroom library, just give your list to the librarian (who can find more titles to fit your needs) and then afterwards, take your classes to the library for actual check-out.
Thanks for letting me share! What's your twist on the Book Pass? I'd love to hear about your experiences.
You may want to look at these resources I created for independent novels: