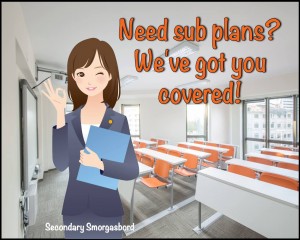 Sick days . . . they're inevitable! Those days when you wake up and it hits you . . . I can't go in!  There's nothing worse than the stress and confusion of digging up lesson plans when you're feeling awful. That's why, for me, preparing for sick days in advance is a must. I LOVE the feeling of knowing I have "stand alone" lessons all set to go when the need arises. Here are some ways I prepare for the substitute ahead of time so I can jump back into bed without a worry:
1.   Locate some stories that aren't from units 
Over the summer, I always take home a few different literature anthologies (on my grade level) to look for short stories, dramas, and memoirs that I know I won't teach in my units during the year. I think of these as my "emergency" stories. If you check your school's book room, you can usually find outdated anthologies (or samples from other publishers that your school didn't end up purchasing) that contain good pieces. I look for stories that aren't too long—ones that could be read in about 20-25 minutes at the most. Then I do a Google search of the titles I like to see if there might be a "full text" version I can print from the Internet. That makes it easy to make a class set of copies to use. Otherwise, I just mark the books with sticky notes, and put the stories in for copies at school.  Another source I use, mostly for good short dramas, is Scholastic Scope. Every issue features a great read-aloud play that students enjoy. Our English department purchases class sets of Scope, but you can check their site for teachers online–it's awesome! I try to get maybe six different stories, dramas, and/or memoirs made into class sets for the start of the year.
2.   Use writing activities that work with ANY text
Here's the part that I love because it's become so easy for me. I have a variety of resources I copy that can be paired with ANY text and are perfect to leave for substitute plans! The students get to read an engaging story, and then they complete a response activity based on the story.  Substitute Common Core Writing Activities for ANY Literature is one of my go-to resources for a sub plan. There are six different writing assignments, each with a detailed pre-writing graphic organizer which draws students back into the story searching for relevant details. I print and copy all six assignments and have them available in folders. You can give students a choice of assignments, or pair up the one that works best with a particular text. If we're currently in a literature unit, then I  can go ahead and use a text I'd planned to include anyway! But if we're doing something different, I use one of the "emergency" story class sets I made in advance.
Here's an example of the Newspaper Article Writing Assignment that I pair with "The Scholarship Jacket."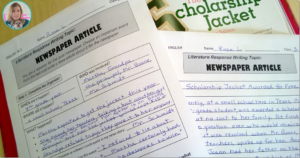 The other after-reading assignments included in this resource that provide for successful substitute plans are . . . A Letter of Advice to a Character, How a Character Changes, Extending the Ending, A Character's Journal Page, and Tracking a Main Conflict.
Another activity that is a big hit as a substitute lesson is pairing up a story with a MINI-BOOK for Literature Response assignment! Students read the story and are then given the mini-book page that contains seven different Common Core-aligned topics on mini-sides plus a cover side that requires artwork. Actually, I love to leave this lesson plan when I know I will be out for two days!! It definitely takes students an additional class period to complete.  There is a directions handout for students to guide them as they work on each page of the mini-book, and another that can be projected that shows how to fold the mini-book. These mini-books are so easy to grade when you get back to school —  just use the quick grading sheet that's provided!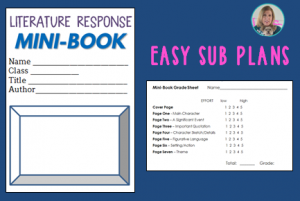 3.  Leave a door sign: Independent Reading Today–Bring Your Novel
Sometimes I have the opportunity to just keep my regular lesson plan moving forward, and if that's the case, Reading Workshop can sure come in handy to "flesh out" a sub plan! If it's not a day when I have Book Club planned (that's what we call our reading workshop time) and I need to quickly adjust and have the substitute teacher make it a Book Club day, it helps to have a sign ready to hang in the doorway so students know to bring their novels.
For example, let's say we've been working on a graphic organizer for an essay and have just started drafting.  I will simply type up a quick plan such as:
 Book Club first 20-25 minutes.  Please hang sign in doorway.
Students will finish writing their rough drafts and then edit with a red pen             (35 minutes).
That's It! My lesson plan is done! Besides leaving the sign, I  keep a description of the Reading Workshop (that I've type up in advance)  in my sub folder. That way the sub knows all the expectations during this important use of instructional time.
I've enjoyed sharing with you through this awesome Secondary Smorgasbord blog hop. Many thanks to hosts Darlene Anne and Pamela Kranz! Check out the fantastic ideas in all the blog posts below!