There's nothing more wonderful than seeing students reading books of their choice. Yes, actually reading! And as a teacher, there's nothing more satisfying than to hear a student say, "I didn't really read much, but since we've had to do independent reading, I've found some authors I really like."
In my 7th and 8th -grade classes, independent reading takes place both in the classroom and at home. You'll need to decide how much class time you can allot on a regular basis and then stick to it, and let the students know that they are also expected to continue their reading as an ongoing homework assignment. My classes meet for an hour, four times per week, so I provide 20 minutes every other class.
Here are some simple tricks to get your Reading Workshop running smoothly:
Give it a name – Decide on something simple to call this time. In my class, we call it Book Club. That way, I can say, "Don't forget, we have Book Club tomorrow," and everyone understands.
Make students accountable – I let students earn 5 points each "Book Club" for bringing their novel and reading (or working on their Book Response, as I will discuss later). I tell students that this is instructional time, and 5 points might not seem like much, but they add up quickly because we have Book Club so often. Assigning points is a key motivating factor in helping them remember to bring their books—they do want to earn their points!  Now, do I mark my grade book with a 5 every time? NO! That would be too much bother. I simply print out my rosters, take a clipboard around and make notes. If a student doesn't have his/her book, I mark NB (no book). At the end of the quarter, I count up the Book Clubs we had (in my plan book) and multiply by 5. For me, it adds up to around 60-65 points. I then make the deductions for students with NBs.
Provide some alternate reading materials – For students who come without their books, it's crucial to have some interesting reading materials (think teen and sports magazines,  Ripley's Believe It or Not,  Book of World Records, etc.) so the climate of your Book Club is preserved. After all, the goal is that everybody is reading! It's really pointless for a student who forgets her novel to pick up another novel from your classroom library (if you have one) because she probably won't really be connecting with it. That's why the magazines and non-fiction books are a must. I tell students that if they forget their novel, I will give them ONE "grace" period, where they can still get their 5 points if they read the alternate materials (because everyone forgets sometimes). After that, they will still be required to read silently, but they can't receive their points.
Assign an assessment – To me, a reading workshop means that some students will be reading and some students will be writing about their reading. As teachers, we need to provide opportunities for student to demonstrate their comprehension and analysis of the books they've chosen. Some students will need to pause in their reading and work on their written response, and others will finish a book in a short time, and be ready to work on the assignment. Give out your assessment just after students choose their books, so they can be using strategies such as sticky notes (if necessary) to keep track of their ideas. In my classes, I refer to the written assignment as the Book Response. Students who are working on their Book Response must have their directions sheet out on their desk (I use colored paper for the top sheet) AND their novel.
Put your expectations in writing – I always pass out a handout with the requirements for the Reading Workshop. We go over it aloud together and there's even a little quiz-like "check" at the bottom. Students then know exactly how it works! On the handout, I include the fact that it's a silent time, how often and how long, the points they will receive, and the fact that they must be either reading OR working on their Book Response with their book and directions out on their desk. Students keep the handout in their English binders–it comes in handy as a reminder.
                             Click for a look at my student handout: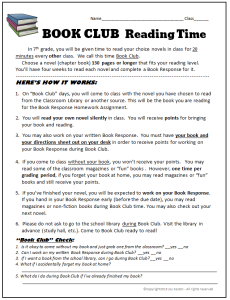 Climate is everything – It's best to maintain a quiet atmosphere so your students can be truly engrossed in their reading and writing. Resist the urge to chat with a colleague or speak with a student in full voice. If you whisper to your students when checking on their reading status, or if they want to sign out a book, etc., you send the message that everyone deserves this quiet time to concentrate on their books!
Stay the course – Try your hardest to keep Reading Workshop time "sacred." Stick to the scheduled days and times so students see that their independent reading is a valuable use of instructional time. They need to get into the routine of bringing their novels to class those days and times.
There you have it! I really look forward to our Book Club time! If you don't have a classroom library yet, no worries! You can take your students to the school library to check out books, which is exactly what I did when I started my reading workshop back in 1995!
And don't forget, we are differentiating when each student is reading a book of choice at his or her own reading level.
Here are three Book Response assignments I created that you might like. Each allows for differentiation.